Return to the default installation on Ubuntu and Linux Mint, see how to reset an installation of Ubuntu or Linux Mint to the initial installation settings.
This tool is great for beginners in linux, because if you make a mistake, just use this program to reset Ubuntu or Linux Mint.
The main factor that prevents people from using linux is complexity, but to learn it is enough to use, and nothing better than testing, if it fails, Resetter helps you.
Installing the Resetter
In the Github page says that soon will have a PPA to install via repository more easily, for now you need to download and install the .DEB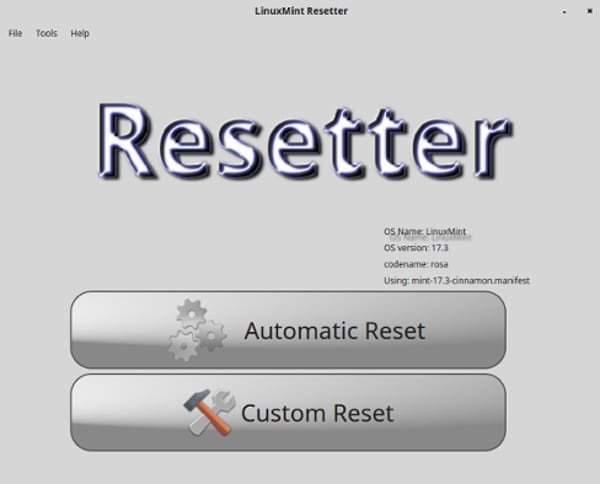 How to Reset Ubuntu
Resetter offers two reset options, automatic mode and custom mode, see the characteristics of each mode:
| RESOURCES | OPTION 1: AUTOMATIC RESET | OPTION 2: CUSTOM RESET |
| --- | --- | --- |
| Automatically removes applications | ✓ | ✓ |
| Choose which app to remove | (I.e. | ✓ |
| Remove old kernel | (I.e. | ✓ |
| Choose to delete user only | (I.e. | ✓ |
| Delete user's default user and folder | ✓ | ✓ |
| Choose which user to delete | (I.e. | ✓ |
| Create default backup user | ✓ | ✓ |
| Create custom backup user | (I.e. | ✓ |
| Automatically install standard programs | ✓ | ✓ |
| Choose which default program to install | (I.e. | ✓ |
Basically the automatic mode excludes all installed programs and users and their default directory, leaves the system as it was installed.
Custom mode is more advanced, it allows choose which application to remove, can choose the kernel, delete the user, and which programs to install.
Resetter Compatibility
Linux Mint 18.1
Linux Mint 18
Linux Mint 17.3
Ubuntu 17.04 ~ coming soon
Ubuntu 16.10
Ubuntu 16.04
Ubuntu 14.04
Resetter Utilities
This tool is an incredible ally for anyone who wants to use a Debian based distro like the famous Ubuntu or Linux Mint.
 – 1. Reset in case of a problem arising from one or more installed applications, use custom mode and remove the apps.
 – 2. Using a test environment, the best way to use it is to test linux using a machine virtual, but not everyone has a hardware for this.
The difficulty to test different configurations of some programs like nginx, apache, mysql, squid, samba, the resetter can facilitate this work.
The resetter can even be used on test virtual machines if you do not have room to create clones.
 – 3. Keep the system clean, the resetter helps a lot to keep the system clean, using custom mode to delete programs you do not use.
Remove the old kernels, and also eliminate some programs that come by default in the installation that are not used.
 – 4. Formatting, if it is necessary to format for any reason whatsoever, rather than formatting is to use the resetter, the advantage is speed.