Microsoft Office lets you encrypt your Office documents and PDF files, making it impossible for anyone to view the contents of the protected file. The instructions below will apply to Microsoft Word, PowerPoint, Excel, and Access 2016, but should also work in other versions.
How to password protect your Office documents
The first thing you should do is open a new Office file. After this file is open, look for File -> Information and then click Protect Document. After that click Encrypt with Password.
You may notice that there is an option below the one we chose, called Restrict Edition. This option is not very secure and can easily be bypassed, as well as making the document readable.
You will now be prompted to enter a password. Remember to choose a secure password. Simple passwords can be easily broken using appropriate software.
After pressing the OK button ,  only those who have the password will be able to view and modify the file. If you want to remove the password, just do the same processes as before and leave the password field blank.
How to Create a Password Protected PDF
You can also create a PDF document and insert a password into it, protecting it from unauthorized access. This works in Microsoft Word, Excel, and PowerPoint.
To do this, open Word for example and create a new file. Now click  File and then Export.
Now click Create PDF / XPS Document. After that, the software will prompt you to choose a name and a location to save the file to. However, before we save the same, we will add a password to our PDF. To do this, click the Options  button in the lower-right corner.

In the window that appeared, check the last option, called Encrypt the document with a password . Press the OK  button and enter the password.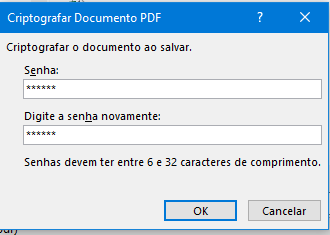 After that, just choose a name and a location to save the PDF file. Remember, you will not be able to view the PDF file if, by chance, you forget your password.
These features will help you protect your particularly sensitive documents, especially when you store them on a thumb drive or in a cloud service.