How to block ad on Android without ROOT, tutorial with several ways to block ads on android with and without ROOT.
In this tutorial I will explain how the most varied ways to block ads and how to use in android without root.
Ads are essential for the internet, but some apps / sites exaggerate, learn to block on android with and without apps.
How Ad Blocking Works
The main way to block is through DNS, all the sites when they are accessed, a query of the typed domain is made.
The query is done on a DNS server that informs the domain IP address and then the browser can access the site.
When we visit a website, it searches for different resources in different domains, such as a facebook plugin inside the page.
To load the facebook plugin you need to search the DNS server for the IP address of facebook to load correctly.
You can block the loading of these ads by entering the wrong IP address and therefore being unable to be displayed.
Block ads in your browser
Method 1:
Block ad in browser using Adguard app ,  this app was on Google Play, but Google removed it.
But it is simple to install application outside of google play on android, just "enable unknown sources" in the android menu.
Download adguard
Adguard offers the optional blocking of cookies, spyware and social networking plugins (those sharing buttons).
Method 2:
Block ad in browser using adblockplus browser , was the way that adblock was able to "fool google."
By disguising your ad blocker as a browser you can download this app directly from the play store.
Adblockplus free download
Like adguard, it also offers privacy and security enhancements by blocking cookies, spyware, and social networking.
Method 3:
Block ad in the browser using an alternate DNS that already filters the URLs that display ads.
The advantage of this version is that no installation is required on android, just change the DNS in the settings.
Enter the Wi-Fi option in the menu / tap and hold the connected network / select "Modify network" / check the box "Show advanced options"
Leave the IP address and Gateway as it is, modify only DNS1 to:  176.103.130.130 and DNS2 to: 176.103.130.131
If you do not know your IP and gateway, install the Fing app first  and see the data, this app shows everyone who is connected to your network .
DNS1: 176.103.130.130
DNS2: 176.103.130.131
See example in photos: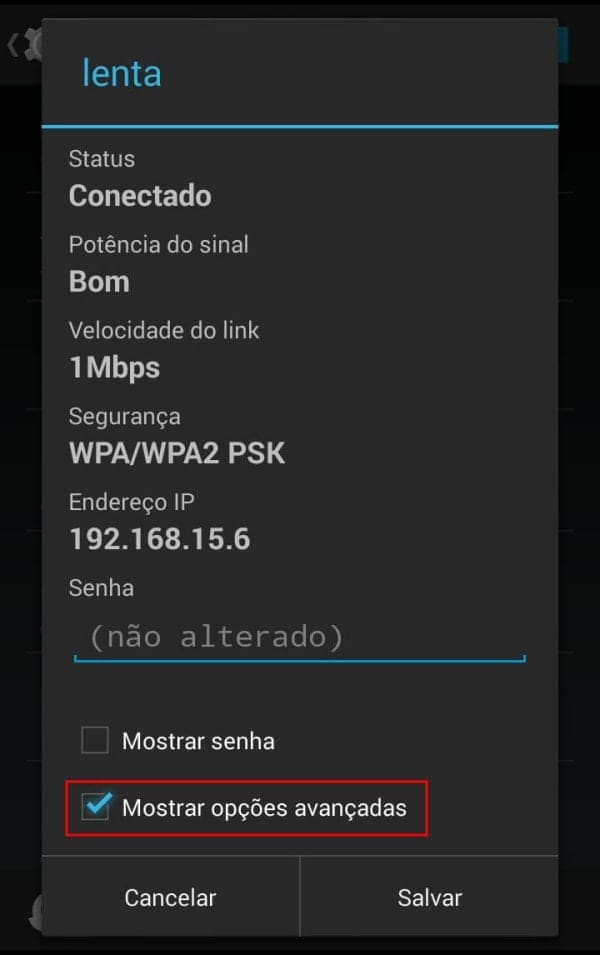 DNS numbers in the correct place, DNS1 and DNS2: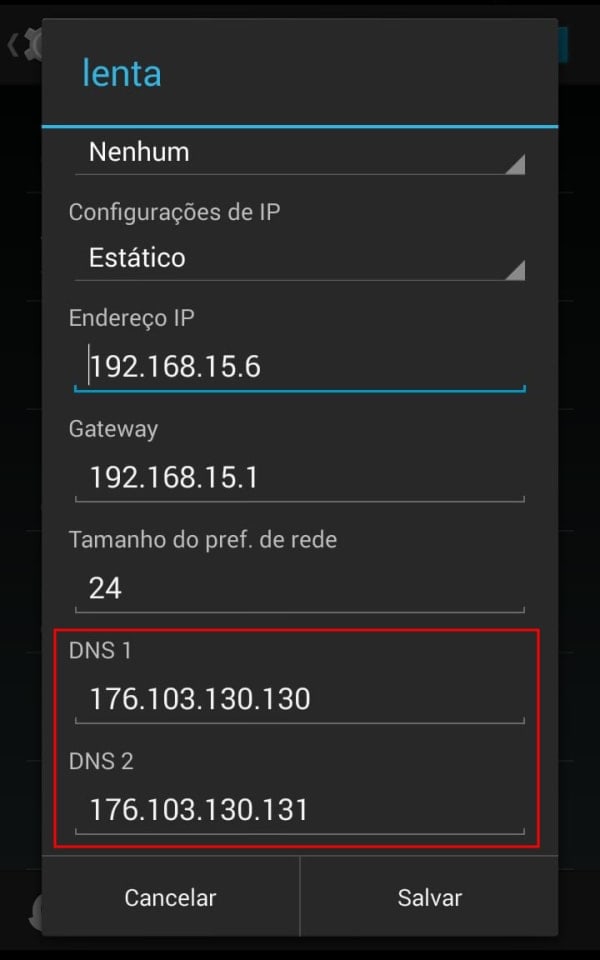 Unfortunately this DNS option works only for Wi-Fi networks, it is not possible to configure DNS on android for 3G / 4G networks.
To use another DNS on Android on mobile networks, you need to install an application that creates a VPN that connects to localhost.
Download APP DNS
The fact of creating a VPN is not very practical, and it also causes suspicion because an insecure VPN can steal your browsing data.
So I did a test and actually this used application connects to localhost (on the cell itself), I tested it by checking the external IP.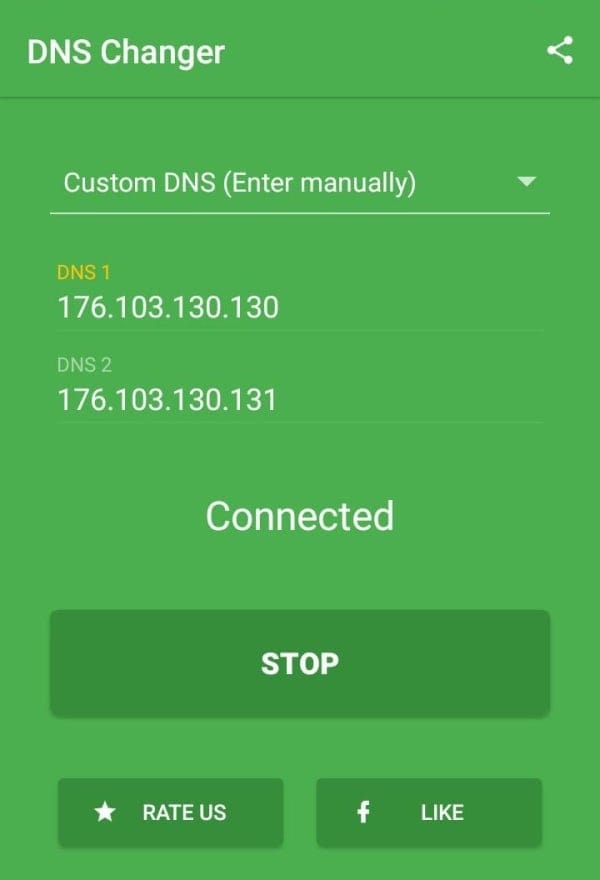 Block ads in apps
I'll tell you a way to block ads on every device, that is, apps, games, and browsing your browser.
DNS66 free download
The DNS66 is an application that changes the machine's DNS using a VPN pointing to localhost.
This app is open source, and can be downloaded from the open source app store for android , the F-droid store.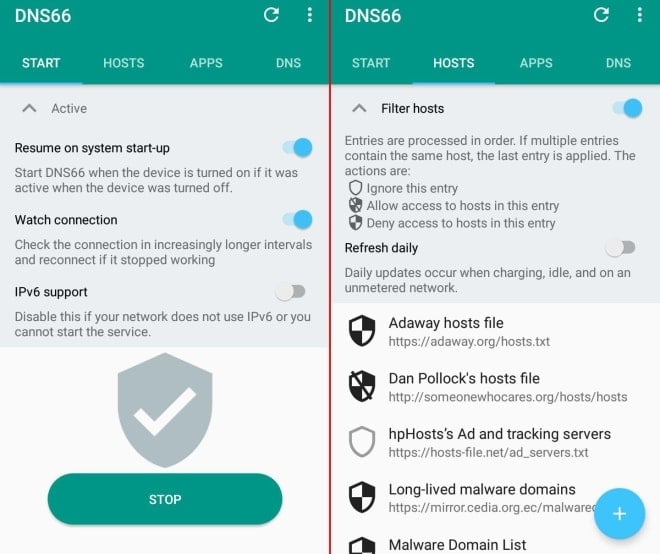 In the start tab I left the first two options marked active and the third one of IPv6 disabled (not necessary).
In the Hosts tab there are 3 options, Empty Shield (ignore list), Shield with drawing (Block list) and Shield with drawing and scratched (allow this list).
Block ads with ROOT
If you have root access on android, it's a bit simpler and more efficient, since you can directly modify the files without needing a VPN.
The app I recommend for those who have ROOT is Adaway , this app needs root access because it downloads IP block lists and modifies the hosts files .
Download Adaway
The great advantage of having root to block ads is the fact that you do not need to create a VPN (even if local)
What is the hosts file?
This file is responsible for locally storing "known" device addresses, it is present in android (linux), windows and mac.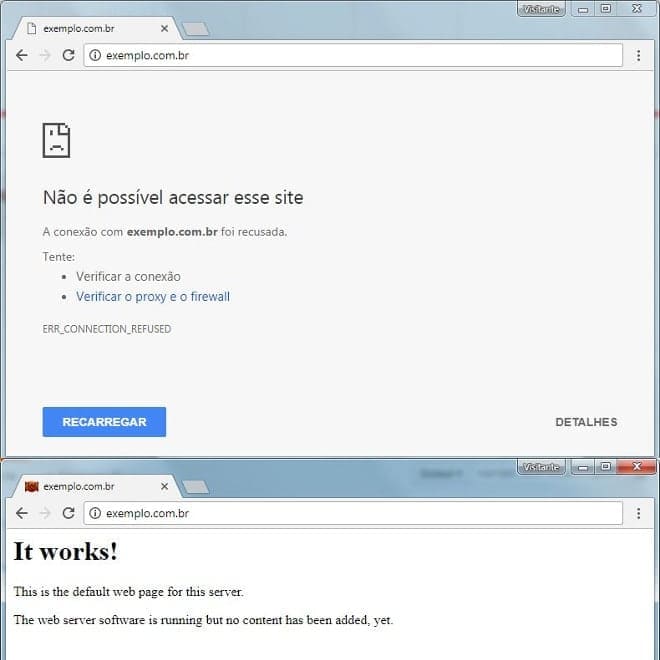 Knowing how it works and how it modifies the hosts file, who owns ROOT can block the ads without any application.
Block ads without apps
You will need a ROOT file explorer to access the / etc  or  / system / etc folder  (allow root access in the root manager).
Look for the hosts file in the / etc  or  / system / etcfolder  , in the example it was in / etc,  rename the file found to hosts.bk (to be backed up).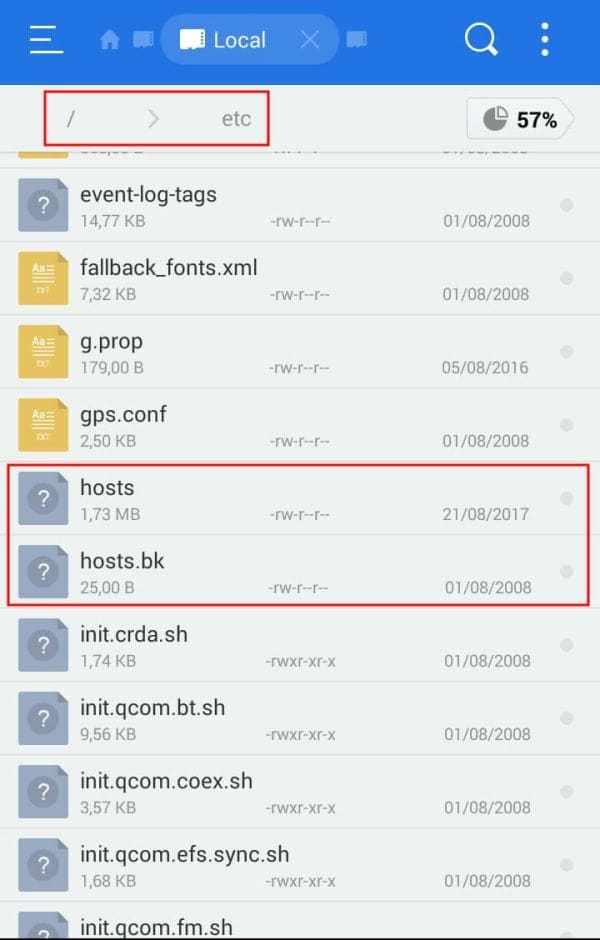 And add a new hosts file downloaded with the list of ad servers that are going to be blocked.
I will leave some lists that can be used individually or even join these lists to form a more complete.
Https://adaway.org/hosts.txt
Http://hosts-file.net/ad_servers.txt
Http://winhelp2002.mvps.org/hosts.txt
Https://pgl.yoyo.org/adservers/serverlist.php?hostformat=hosts&showintro=1&mimetype=plaintext
Https://www.malwaredomainlist.com/hostslist/hosts.txt
Http://someonewhocares.org/hosts/hosts
Block ads using xposed framework application
I already talked about the xposed framework , it is a powerful tool for those who have root on the android device.
There is an application called  MinMinGuard  that in addition to blocking ads, it even removes the empty area left in the application.