5 ways to download mp3 from youtube, learn download mp3 audio from youtube videos, are 5 different ways to download mp3 songs on windows and android.
It is quite simple to download from youtube, but know these 5 alternatives to download on any platform and when you want, even without software.
5 methods to download mp3 from youtube
It has several options being an open source option , an option for windows, linux and Mac, two options online, an option for android.
Method 1 (open source):
Download freeyoutubedownloader
The  freeyoutubedownloader  is a software for windows available in an open source way for download on the site sourceforge, the program is very simple and functional.
It is possible to download the mp3s in several qualities, just paste the YouTube url and select the format and quality and still promises to download faster than the browser.
Method 2 (windows, linux and mac):
Download 4k download
The 4k download  is a suite of programs with various functions, youtube videos download, youtube mp3 download, mp3 download of any video, among others.
Use 4K YouTube to MP3, to download songs from youtube, it downloads in the formats Mp3, M4A or OGG, to transfer the downloaded songs to iTunes.
In addition the 4k youtube to mp3 has other features, how to download audio books, download other websites and download youtube playlist.
Method 3 (online 1):
The Clipconverter site  is a good option to download MP3 online, the site works for MP3, MA4 and AAC, also to download videos.
I did a very detailed tutorial of this site, showing how to download MP3 to cloud , and listen on any device.
Just skip the end of the tutorial and download directly to your device, or follow the tutorial and create a private spotify with downloaded songs.
Method 4 (online 2):
The onlinevideoconverter site   is another very easy online option to download, just paste the URL, select the format and download the file.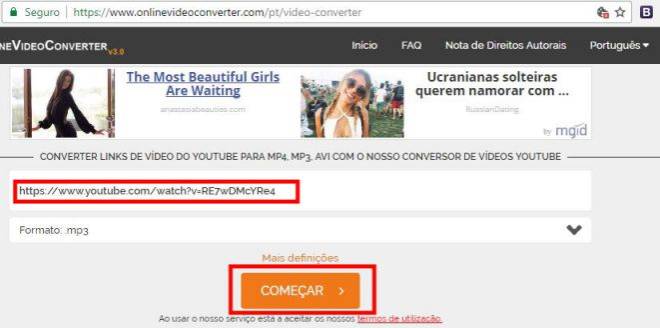 Then just click download, to send to the dropbox and also download by mobile using the QR code generated.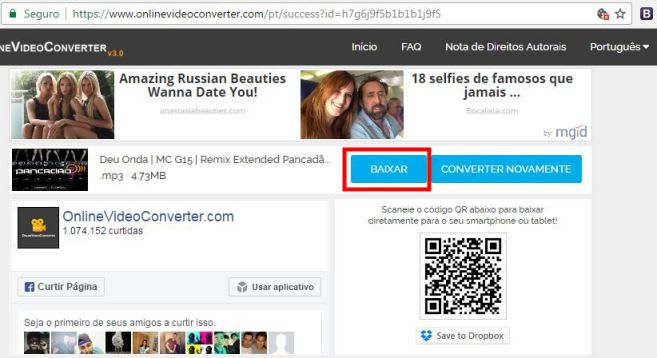 Method 5 (Android):
Download MP3 by android
The youtubedownloader is an APP for android, to download videos or MP3 directly from the smartphone with android.
The app is trusted, its code is open, and it's available through the android app store F-droid.org, an exclusive open source apps store.
To use the app, just find the video on youtube and use the option to share and select the youtubedownloader to download the MP3.
I did a dedicated tutorial on this android app that can be seen in this post, youtube mp3 download on android .